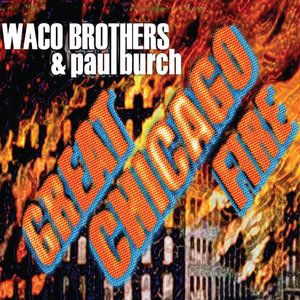 Songs
Great Chicago Fire
Give In 
Wrong Side of Love
Flight to Spain
Cannonball
Monterey
Someone That You Know
Transfusion Blues
On the Sly 
Up On the Mountain
A Hard Rain's A Gonna Fall

Production 
Producer Waco Brothers & Paul Burch
Label  Bloodshot
Recordist Ken Sluiter, PB
Mastering Blaise Barton

Musicians
Guitar, Voice Jon Langford
Guitar, Voice PB
Guitar, Voice Dean Schlabowske
Bass Alan Doughty
Drums Steve Goulding, Joe Camarallo (Great Chicago Fire)
Electric Mandolin, Voice Tracy Dear
Harmony Tawney Newsome, Bethany Thomas
Fiddle Fats Kaplin
Keyboard Accordian Pat Brennon

Art
Jon Langford
Waclington Burchski
Transfusion Blues
KDHX St. Louis


Quotes
Chicago Reader Artist on Artist with Jon & Paul

Americana the New Country
Interview with Paul and Deano



New York Times
Intoxicatingly profane. At SXSW, they nailed it with Bo Diddley beats and some shouted vocals that could have come from the mouth of Joe Strummer. They rocked.

Chicago Tribune The Wacos and Burch pull off a nifty trick on Great Chicago Fire. If the Rolling Stones were still making great records, this would be it.

American Songwriter/Top Songs of 2012
Flight to Spain
Rather than pop sleeping pills during transatlantic flights, these two Bloodshot mainstays nurse tiny bottles of booze, reminisce about the Spanish Civil War, and wallow in their regrets. A nine-hour trip condensed into five glorious minutes.



Slug Magazine

While plenty of country and folk roots are touched on here, the vigor and rowdy spirit is always looming, but never gets too intense, which works well, and allows both driving forces of the project to be heard. This is just evidence of a metric ton of talent. 



Pop Matters

Such a paring seems like a great risk/great reward gamble for both musicians and fortunately for both the listener and the players it is the latter. Great Chicago Fire is the sound of a group of men who grateful to be working together, happy to be playing their favorite style of music and unable to contain their excitement. Fortunately for us, they didn't try.



Winnipeg Star

This collaboration gives Burch s melodies the muscle they need, while bringing a dash of class to the Wacos party. Bring on a second round.