The Story of  M E R I D I A N   R
I
S I N G
I remember the first record I ever heard in my life, on an old Victrola with a steel needle, was a Jimmie Rodgers song; I don't recall if it was 'Blue Yodel No.1' or 'Waiting For A Train'. With his Southern accent and the way he sang the blues, I can tell you, there was really more cross-pollination between Southern white music, Southern white gospel, and Black gospel.  I don't believe there's any relationship in any other category of music that comes closer than the country blues, especially the type that Jimmie Rodgers started in the '20s and '30s. He was a person who contributed so much, and he kind of parted the waters so that we could see the dual influence."        
-Sam Phillips

Meridian Rising is an imagined musical autobiography of Jimmie Rodgers: the Singing Brakeman, the Blue Yodeler, and the Father of Country Music. Jimmie never wrote an autobiography, so I imagined for him a musical memoir made of small moments recalled in his last breath and scored with the sounds and rhythms he would have heard on his travels as a tent show entertainer, or on the beach at Coney Island, or down in Louisiana where backroom games of poker and hearts--The Black Lady--whittled away his good fortune.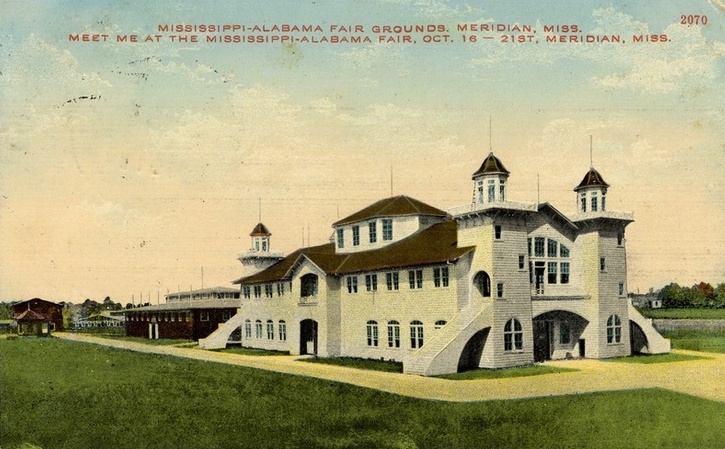 I imagined how Rodgers might recall his boyhood in Meridian, Mississippi in the early 1900s when it was a thriving railroad hub that saw 40 trains a day going north from New Orleans or south from Ohio, "…an ideal place for raising boys" noted the Meridian Board of Trade. Meridian had pro baseball (the Meridian Mets of the Cotton States League) two segregated Carnegie libraries, and fine department stores like Winner & Kline's and Marks Rothenberg, whose owners built the Grand Opera House where Rodgers might have heard Black Pattie Sissiereta performing with her Troubadours.

When traveling tent shows like Silas Greene from New Orleans, the all Black variety group, came through by rail, Rodgers knew all the broken fence boards where he might sneak in to see the show, since his father sometimes worked the yards as a foreman. From childhood, young Jimmie knew the clang of the big wheels, the whistle calls, and the work songs of the men who worked there and the many more who left the yard to die at Meridian's tuberculosis sanatorium on U.S. Route 49, not far from the Highway 51 crossroads.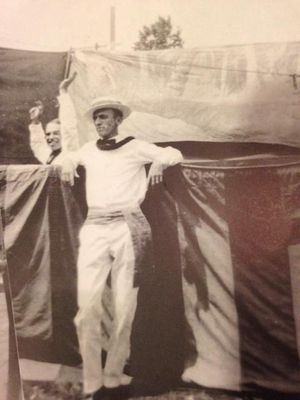 Under canvas, Rodgers might have heard "King" Bennie Nawahi play a National Hawaiian guitar, met Lionel the Lion Face, marveled at Zbyszko the Strongman, or watch a girl get sawed in half. A photograph of Jimmie taken on the road during his apprentice years shows him deep in thought, perhaps imagining his own tent show. Another sees him with a merry band of performers striking poses like one of Oskar Schlemmer's Bauhaus costume parties. Same time, different worlds.



In his short career, Jimmie Rodgers performed with many national touring companies but preferred to go "Cadillacin" (a favorite catch phrase) solo in small towns like Ada, Oklahoma, or Smackover, Arkansas where he might hear his records playing through open windows or make a quick get away with a fine lady he met that night. Biographer Nolan Porterfield found Rodgers' amorous partners still shy to discuss their adventures with the Singing Brakeman 50 years later.

Friends and fellow musicians recalled his generosity when times were good. He sought out the status symbols of a contemporary gentleman; he was a Mason, an honorary Texas Ranger, and kept a room at the Gunter Hotel in San Antoine for late night entertaining.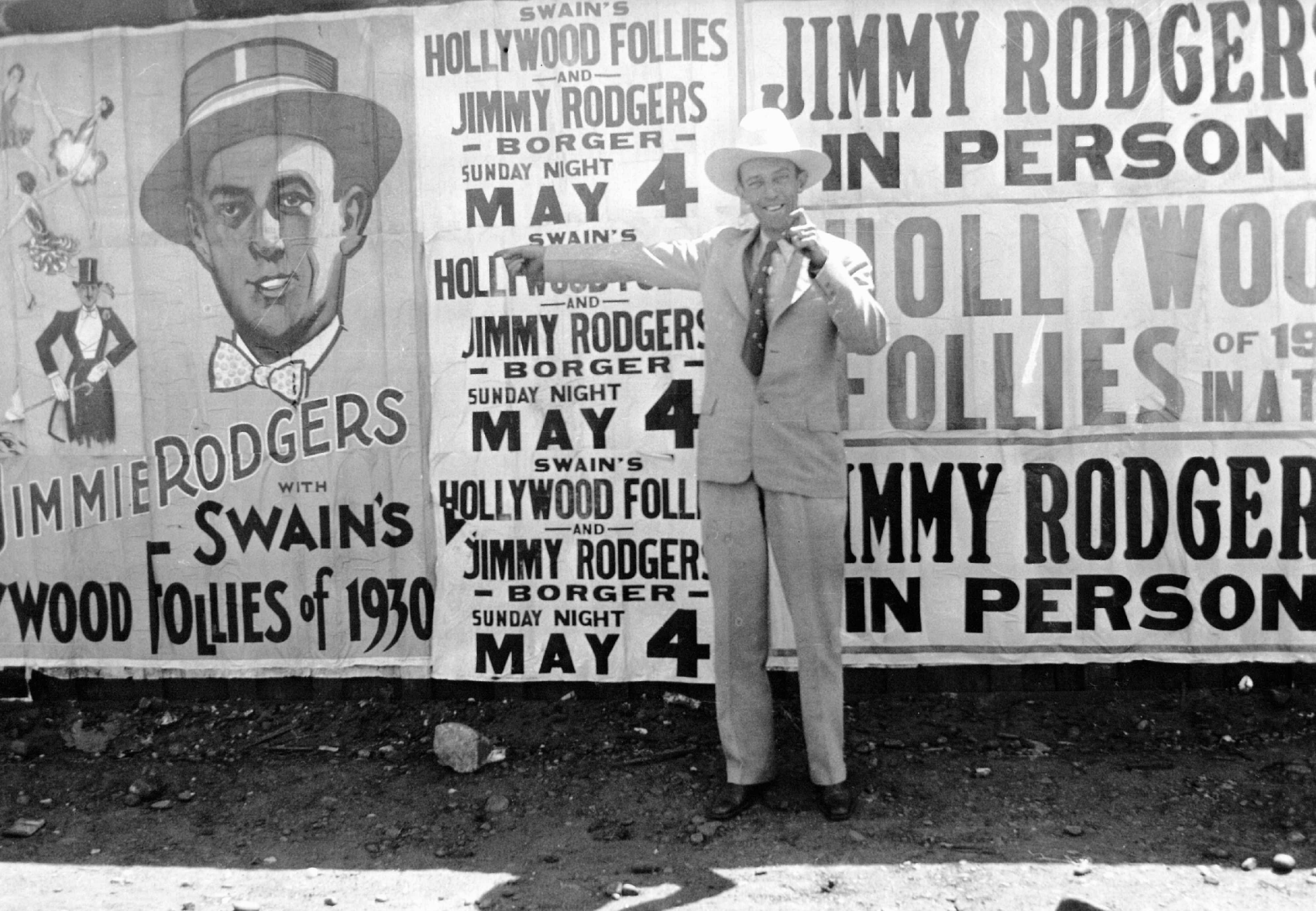 On the road, Rodgers carefully noted his show day earnings, expenses, and the weather in a small ledger. But his need to be accepted as a man of renown made him an easy touch for confidence men.  His sister-in-law and co-writer Elsie McWilliams told Steve Forbert in an interview that she once accompanied Rodgers to New Orleans where she watched him gamble away enough "to buy a nice small house." 
Ralph Peer's biographer Barry Mazor uncovered another incident at a hotel in New Orleans where Rodgers offered an IOU from the Kerrville Texas Bank to cover roulette losses (as well as other entertainments), to a group of hustlers that included notorious con man Mark Boasburg whose exploits would earn him an obituary in Billboard. When Boasburg discovered there was no such bank for that IOU he dispatched his lawyer to write Peer, demanding payment. Unbowed by the demand, Peer merely advised his protégé "this is not an honest indebtedness" and told Rodgers he'd best stay away from Louisiana for awhile. 

Peer was always ready to help his man out of a jam--not an infrequent occurrence like the time Jimmie's first wife Stella tracked him down in Holdenville, Oklahoma to introduce her 7-year old daughter, Kathryn, to her long lost Daddy—the Blue Yodeler.
 
Throughout his storied career as the 20th century's preeminent publisher of blues, pop, Latin, country & western, and early rock and roll, Ralph Peer considered Jimmie his ideal artist—"a true friend." Their families vacationed together at Coney Island and at the Yodeler's Paradise, the home Rodgers built in Texas (Peer fronted the down payment).
 
Within a year after Blue Yodel ("T for Texas") hit, Peer arranged a talking movie short, The Singing Brakeman.  When Victor became part of RCA, Peer encouraged Rodgers to buy stock. In 1930 they visited Hollywood where Peer booked a session with Louis Armstrong, then leading a band at the New Cotton Club. During rehearsals for the Johnny Cash Show in 1969, Louis recalled making "Blue Yodel #9":
 
I'd been knowing Jimmie for a long time. We met one morning and he said, 'Man, would you like to sing some blues with me?' And I said, 'Okay, daddy. Sing some blues and I'm gonna play behind you--and that's the way the record started, you know.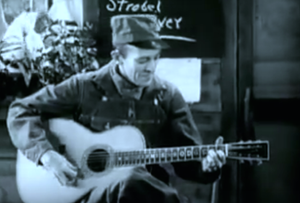 Later, film producer Hal Roach took them to lunch with Laurel & Hardy to discuss getting Rodgers in the movie business (along with other titles from Peer's publishing company) if Rodgers could only catch his breath. Perhaps they also went for a bootleg cocktail at Musso & Franks.
Success made Peer and Rodgers fearless to experiment with a variety of musical accompaniment, and their discography includes virtually every style of American popular music of Rodgers' time including Armstrong, the Carter Family, steel guitarist Cliff Carlisle, the Louisville Jug Band, Hawaiian guitarist Joe Kaipo, and Paramount Records bluesman Clifford Gibson. "Let Me Be Your Sidetrack," Rodger's unissued voice and guitar duet with Gibson, enchanted me to imagine Jimmie's life as a traveling musician.
 
Gibson and Rodgers were in Louisville in 1931, each for their own session with Peer (along with the Carter Family). "Let Me Be Your Sidetrack" isn't a perfect record. Jimmie often "jumped time" with his chord changes without losing the beat (a trait he shared with Charlie Patton). But Gibson and Rodgers sound joyous together, freely communicating in (and out of) tempo. Rodgers was fond of seizing any opportunity to play with musicians he liked, often bringing virtual strangers into the studio. At the end of the surviving take, Gibson anticipates Rodgers' yodel with guitar lines that echo some of the same tuning and phrasing heard on Robert Johnson's first session made at the Gunter Hotel five years later.

None of these associations surprised Peer ("He could sing anything" he said of Rodgers), who would have found nothing incongruent in Rodgers recording with Armstrong one day and the next lending his voice (but not his name) to a tasteless minstrel skit, most likely a pitch to audition for Laurel & Hardy's first full length sound movie, Pardon Us, then in production. (Production for the film, which included a blackface routine that probably inspired Jimmie to make a voice test, was long and costly and has since been withheld from most Laurel & Hardy anthologies.)
 
With these connections in mind, it's not improbable to imagine Rodgers meeting Blind Willie McTell at another Peer-led session in Atlanta or to believe Sam Chatmon of the Mississippi Sheiks' claim to have once played bass for Rodgers at a dance. (Pause for a moment and imagine dancing to Jimmie Rodgers and the Mississippi Sheiks.)

Jimmie made connections with musicians as easily as he did his audience. His continued correspondence with Martin Guitars (by pen and typewriter) was indicative of his incessantly hopeful personality. "Dear Friend Mr. Martin, I'm building my new home in Kerrville, Texas, 70 miles south of San Antonio…am sending you invitation to the house warming as soon as it is completed…am getting along fine but need lots of rest."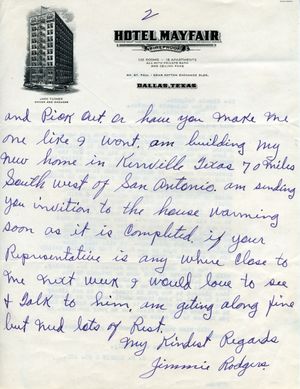 Rodgers' letters to his musicians always hinted at new horizons. He had only a year to live when he wrote fiddler Clayton McMichen: "Well son, here's the dope on recording…Peer says he wants me to do at least 10 numbers so if you have any thing of your own, be sure to bring it…After the Recording is all finished, we all go under the Hammer for the Audition with N.B.C. which seems like a pretty good break." 
 
Despite an x-ray diagnosis in 1929 that his lungs would likely collapse by the following year, Rodgers worked constantly. He volunteered to join Will Rogers on a Red Cross tour to raise funds for drought and famine-stricken farmers, a favor for which Rogers anointed Jimmie "my distant son."
 
Rodgers also liked to autograph photos to friends with funny quips. Standing with a new Buick bought with royalties from "Blue Yodel," he quoted the advertiser's byline, "When they make a better car, I'll buy one."  On the verso of another photo signed for an Aunt, he wrote: 
 
In case of serious illness or accident,
telegraph: 1609-11 Ave Meridian Miss.
Size of Collar: 14 Cuffs: 11
Size of Shirt 14-33 Shoes 9 1/2 AA
Size of Hat 7 1/4 Gloves 9 1/2
Guitar: Martin #27014
My weight was: 140, date 3-31-27
My height was 5ft 10in, date 3-31-27

Rodgers didn't have many good years in the limelight. Due to his ever-advancing TB, he left many national package tours early due to bouts of pneumonia or exhaustion. Miraculously, he still made good records.

The last year of Jimmie Rodgers' life was fraught with trouble. After a week in a Houston hospital in early 1933, Rodgers--ever the perennial enthusiast-- finally came to grips that he was fast running out of time. He was also going broke. The Depression had devastated his audience as well as the record business. He sold his Yodeler's Paradise at a loss. The N.B.C. network passed on a Rodgers-led national broadcast, and attempts to book a tour of England led nowhere. He could still sell out small rural theaters but on the road he had given up staying in the best hotels and would now sleep in tourist camps, living out of his car or spending afternoons in a small tent, desperately trying to draw a breath before a show, and watched over by his driver Cliff, his bulldog Mr. Mickey, and a nurse he affectionately called Ole Pleasin' who tried to ease the constant pleurisy pains in his chest with morphine and swigs of prescription alcohol.
 
When Rodgers appealed to Peer for one more session in May 1933, Peer agreed even though they had plenty of songs set aside from previous sessions. "What he wanted to do was come up to New York and record about ten selections and get $2,500 ($250 a song)," Peer recalled. "I couldn't see any objection to it." 



Rodgers chose to stay at his favorite hotel on 50th—now renamed the Hotel Taft. And though he told a friend he wanted to spend the last of his days "away from that woman" he sent Carrie letters and postcards. In his letters home, he never mentions his dire condition but advises Carrie's brother --at home in Meridian suffering from lung cancer--to go ahead and smoke if it makes him feel good.

During those final sessions made with a small group at RCA's new studio on East 24th (where Elvis Presley cut "Hound Dog" 23 years later), Rodgers sang from a cot, propped up with pillows to keep him close to the microphone, and joked to the engineer during his frequent breakdowns that he'd continue once he finished "coughing up rubies."
 
Peer, meanwhile, stayed in Camden to negotiate a new Rodgers contract. He kept Jimmie's condition a secret from RCA executives (Peer surely welcomed a reason to not be at the sessions in person) but slyly inserted a clause that forbade RCA from destroying the Blue Yodeler's master recordings.  Rodgers finished his sessions with a ballad, "Years Ago," which he insisted he play alone while standing.

He spent the next morning at Coney Island. On the taxi ride back to the Hotel Taft, Jimmie told the driver he wished to walk the last block since it was such a beautiful day. He took a few steps before he collapsed, steadying himself on a fire hydrant.  He was taken to his room where he died that night in his sleep. He was 35. Carrie received the last of his correspondence a few days later.
 
* * * *

If we could go Cadillacin' back then, we could chase the sonic bazaar Jimmie Rodgers knew--big bands with violins and string band blues trios. Fats Kaplin says the only difference between a fiddle and a violin is you don't spill beer on a violin.

Rodgers recorded from 1927-1933, and his contemporaries included Duke Ellington, George Gershwin, Sol Hoopii, Hoagy Carmichael, Blind Lemon Jefferson, Charlie Poole, Jelly Roll Morton, and of course Armstrong, along with the many itinerant guitar players he met on the road who played "boxes" held together with hide glue and fretted with knives or bottleneck slides.

To make your own bottleneck slide, find a bottle with a long thin neck. See how deep your pinky can go in the bottle and mark that spot. Then, soak a long piece of string in kerosene; tie it around the bottle at the spot where you marked the depth of your finger. Strike a match and set the string on fire. After it burns, the bottle should break off at the point where you tied the string. Take some sandpaper to smooth the edges.

Jimmie Rodgers was one of the first great American stylists of the modern age, forging together all its native sounds-- folk tales, western dreams, pop, blues, and old home serenades. In song, he could be anyone: truth teller, liar, patriot, bum, gent, lover, fighter, cop, poet, and pal. He could transform a lyric of his own or from many other sources into a personal parable. Jimmie didn't write "TB Blues" or "Waiting On A Train," but he made them seem autobiographical and those songs and dozens of others were assumed to be so by his fans. It was a style probably inspired by the new truth-telling songs heard in popular African-American led traveling shows.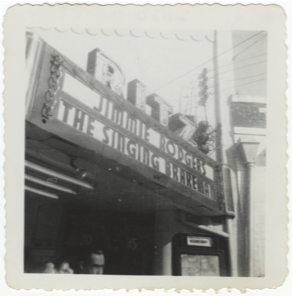 Many of my favorite artists like Leadbelly, Robert Johnson, Mississippi John Hurt, and Howlin' Wolf, recognized Rodgers as both a kindred spirit and a model of a superlative entertainer, performing his songs or re-assembling them to make their own compositions.  "And then my man that I dug, that I really dug, that I got my yodel from, was Jimmie Rodgers in his time," Howlin' Wolf told Topper Carew in 1970.  "See he yodeled and I turned it into my howl…ooohhh."

Perhaps the first lines of a true Jimmie Rodgers' autobiography—his own Meridian Rising-- would have read something like Ponyboy's soliloquy that begins S.E. Hinton's The Outsiders:  "When I stepped out into the bright sunlight from the darkness of the movie house, I had only two things on my mind: Paul Newman and a ride home."  But in Jimmie's story he'd be walking out of the Ritz having just seen Bessie Smith in St. Louis Blues. But then Chuck D. or Sam Cooke or Elvis Presley might have begun their story that way, too, as could Billy Bragg or Jon Langford.  

So now, ladies and gentleman, the tales you're about to hear are honest but not necessarily true. This is show business after all. So step right up. It's all on the inside.
 
Details of Jimmie's life including his correspondence, discography, and other biographical information can be credited to the work of the following with my sincere thanks for their time and enthusiasm:

Barry Mazor's Meeting Jimmie Rodgers and 
Ralph Peer and the Making of Popular Roots Music
Nolan Porterfield's