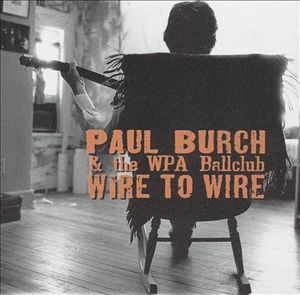 Songs
Winner's Circle
Drifting Texas Sand (Buster Coward)
Rosa Lee
I Am Here
Borrowed and Broke
Percy Lynn's Run
Some of These Days
Ring the Bell
I Turned A Corner
This Time Next Year
When You Go Wrong
Disciple
Walking to McCourey
Long Tall Glass of Water

Production
Producer Paul Burch
Recording Hank Tilbury, George Bradfute

Musicians
Guitar, Harmonica, Percussion Paul Burch
Baritone Guitar George Bradfute
Upright Bass Dennis Crouch
Steel Guitar Paul Niehaus
Harmony Deanna Varagona
Fiddle, Banjo Harmony Raymond McClain
Designated Yodeler Ranger Doug
Guitar, Harmony Bob Chabot (Borrowed and Broke)
Bass, Harmony Paul Jost (Borrowed and Broke)

Art
Cover Photo Jim Herrington
Typeset  Hatch Show Print
Design Bruno Boussard
 
Quotes
No Depression, A Horse of A Different Color by Jim Ridley
Wire To Wire crackles with the resulting voltage from Texas swing and Bakersfield country and even Merseybeat pop all zapping into the same transformer.

Austin Chronicle Wire to Wire is a winner right out of the gate with "Winner's Circle," which opens what Burch describes as a "string of episodes that takes place in time from sundown to sundown." The bold proclamation of "standing in the winner's circle" might seem a tad boastful at the beginning of any album, but when gentle rural rockers like "Borrowed and Broke" and Webb Pierce's "Drifting Texas Sand,"...there's no question why odds were 5-1 in his favor. He beat Nashville by a mile.